A Growing Congregation
By Zailin Pena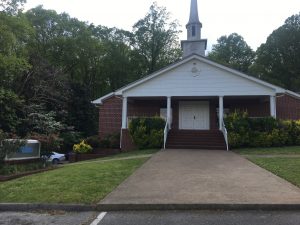 Su Casa Seventh-day Adventist Church has been in the Collegedale community since the early 1980s, and it's still growing. 
The congregation welcomes students from Southern Adventist University and other colleges in the Tennessee area, as well as community members.
Pastor Joel Barrios, who is from Argentina, has led the church for about six years. In total, he has worked 30 years in ministry.
Every Sabbath, the services are divided into two. One part is in Spanish, and the other is bilingual. Fifty percent of the people who attend the second part of the service are college students. However, the church serves members of all ages, including children, elderly people, teenagers, and young couples.
Students and members of the church enjoy the potluck that comes after the service every Sabbath. Not only is that a way of getting to know one another, but also a chance to grow closer as a church and community. Rice, beans, brown rice, and other Hispanic delicacies are just a few of the dishes that are served to members and visitors.
According to Barrios, the church has 230 members. There are also over 20 different nationalities represented. While the building may be small, members always make room for those who visit.
With a church that is bustling with people from various places and backgrounds almost every Sabbath, the church is looking to expand.
Barrios said members began to consider the possibility of expanding in 2013, taking into account the lack of space to develop their ministries. There is no set date for the completion of the construction, but an estimate is about a year and a half, he said.  Hopefully, once the church has met its goals of expansion, it can keep growing not only in numbers but also in diversity.
My experience visiting this church was a positive one. Barrios was friendly and open to answering any questions that I had about his congregation.
While speaking to him, I realized that my Spanish could've been better, but he was kind and patient, and in the end, we were both able to communicate efficiently.
He asked me about my background and where I grew up, as well as the Spanish-speaking church that my family still attends today. His interest in my upbringing made me feel as though I was a member of the church because of the way he gave me his undivided attention. 
Visiting Su Casa for the first time in a long time felt refreshing. I felt that way because I was in a place where I felt comfortable speaking my first language to people I knew would understand me.
Not only was the pastor friendly, but the rest of the members were as well. I can see why people are drawn to this special church. It is because the members make all those who enter feel welcome.