Attending a Church When You Don't Understand the Language
By Hannah D'Avanzo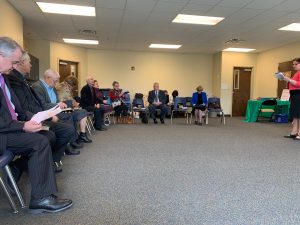 When entering Collegedale Community Church, I made my way up the stairs and into a large Sabbath School room where there were people who looked nothing like me and spoke a different language.
The white complexions, blonde hair, and light eyes of the church members made me instantly stand out. Everyone seemed to be 40 and above.
The Slavic International Mission Group Maranatha is made up of Russians, Ukrainians, and Romanians worshipping together since 2007.  
Attending the church for a class assignment, it wasn't like I could just slip in the back pew and sneak out before it was done, as there were only 14 people other than me in attendance. I had to be equally a part of the service not understanding a word they were saying, while at the same time entertaining some kind, yet curious stares.
Once I sat down, the pastor addressed me in front of the group and said something along the lines of, "Sorry, we only speak Russian here and do not have a translator."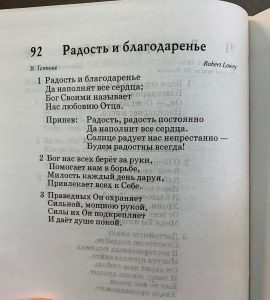 I awkwardly said,  "It's okay," while feeling very out of my comfort zone.  
To start the church service, Pastor Michael Skrypkar led out in Russian. Suddenly, everyone rose to their feet, and  I awkwardly jumped up seconds behind them. This happened several times throughout the service, with me always being the last person to stand.
Then came song service. Unfortunately, I could not read the words on the pages because they were written in a different alphabet. Yet, I still tried to mumble something. 
Finally, I started looking for beauty in the service; and surprisingly, this small change in mindset changed my whole experience.
First off, I realized one thing in particular that made me respect this group of worshippers. Russia and Ukraine have had a long history of conflicts with each other, yet these members worshipped in peace and harmony. There, in that worship service, none of that mattered.
Emmalina Pleshka said,  "It's nice because they all have something they can relate to with each other."
At that moment, though I could not understand, I felt connected as a believer and could feel the Holy Spirit's presence there.
I also found myself relying on other factors to help me understand the sermon. This included reading body language and paying close attention to pictures on the slideshow that went along with the sermon. By the photos alone, I could tell it was something pertaining to the end times.
By having to focus so intensely, I found myself paying closer attention than I would ordinarily do in a church where I understood the language. It forced me to be fully present.
Overall, attending a church where I did not understand the language forced me to truly rely on the common ground of everyone coming to worship the same powerful God.
After the service, I spent some time speaking with the pastor. He said it is uncommon for someone outside the race to attend the church. He proceeded to express how excited he was that I came. Members, then, welcomed me to their upcoming potlucks and communion services.
They even offered to provide a translator for me next time.