The Genesis of Adventist Churches in Chattanooga
By Gia Arroyo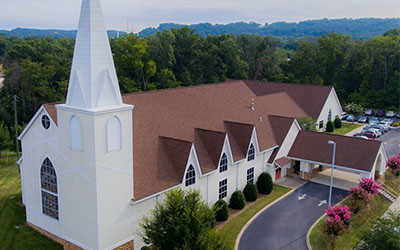 The Chattanooga/Collegedale area is known by many Seventh-day Adventists as being a place where young adults can not only study at a faith-based university but also cultivate their faith. The first church that put the SDA church on the map in this area was Chattanooga First SDA Church.
Back in the late 1890s, members of an SDA church in Graysville, Tennessee, were outgrowing that area for many reasons. They were the same members that helped pioneer Southern Missionary College (now Southern Adventist University). By the year 1907, the members, who were under the Cumberland Conference, formed Chattanooga First SDA Church.
Just two years after inception, the church's membership doubled. Growth occurred at a rapid pace, forcing members to change locations various times. Their final move occurred in 2003 when they purchased the sanctuary in which they currently reside.
However, the Chattanooga area has seen a proliferation of churches over the years due to an influx of SDA families to the Collegedale area. There are now more than 25 churches within a 25-mile radius, offering a variety of worship styles from which to choose based on cultural and generational preferences.  
At Chattanooga First, a traditional congregation, the average age of the membership is 40-45, according to church leaders.  Although the Chattanooga/Collegedale area is full of young SDA's, Chattanooga First struggles greatly with their young adult attendance. They are seeing approximately 20 young adults each Sabbath.
"On the books, we have 420 [members], but on a given Sabbath we have about 180 to 200 in attendance," said Christopher Sauve, the church's associate pastor.
When asked if the church was doing anything to reach more young adults, especially since SAU is so close, Sauve replied:
"There is nothing really concrete that we do besides Sabbath School; but for a college student, you would need more than just that hour."
He later added: "We aren't doing near as well as Hamilton or Collegedale," which are two local SDA churches currently attracting many students.
According to Sauve, the congregation is composed of 60 percent Caucasian members.  The church has a ministry led by a group of Portuguese members, which consists of 30 people. Those members comprise the biggest minority group at the church. Aside from the Portuguese ministry, there are an estimated 15 members who are African American.  
Though diversity is lacking in some areas, the church is looking for new ways to reach people in the community - especially those at a mosque near the church. Sauve said members want to create a friendship with their Muslim neighbors.
"I know we have neglected this for a while…for years now," he said. "The mindset used to be that there was no need to grow, but now we are seeing the need."